Subscribe
Get the Google Calendar
See what's on when
The StartupEventsList.com is a curated Google Calendar for startup and tech events.
We list networking events, afterwork socials, tech and business meetups, seminars, workshops, hackathons, conferences, summits, festivals, investor days, startup accelerators, incubators, competitions and launch parties.
It is used daily by hundreds of entrepreneurs, CEOs, CTOs, CXOs, VCs, fund managers, analysts, developers, designers, tech professionals, product managers, marketing managers, recruiters, government policy makers, press, media and more.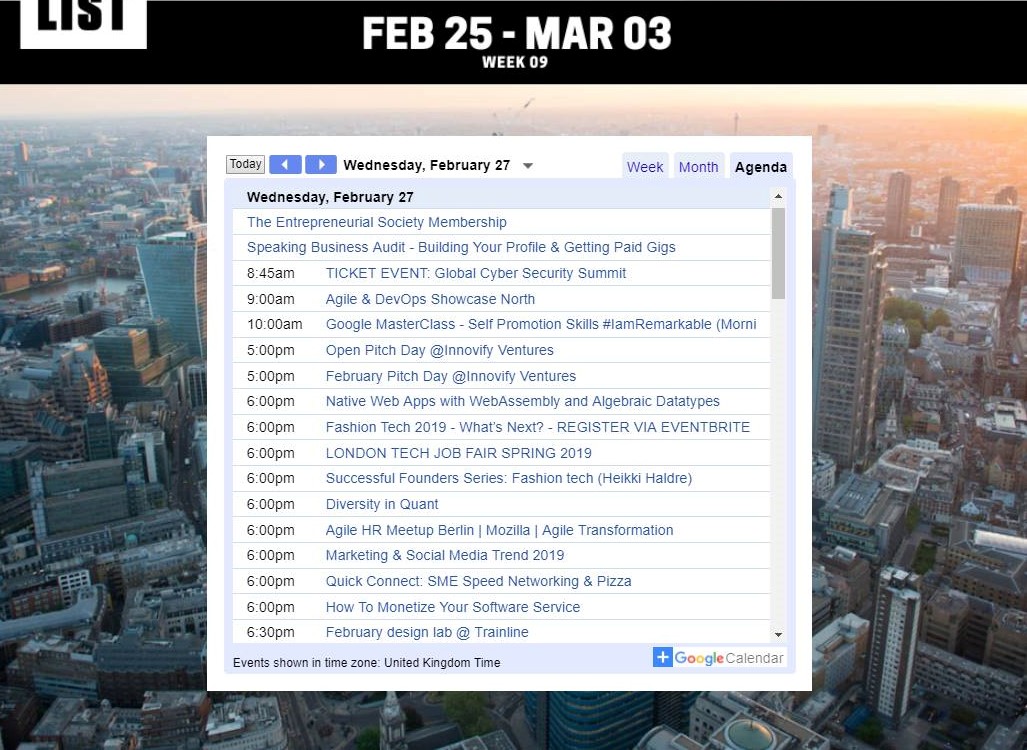 Grow your professional network like a pro
Looking for funding, co-founders, career opportunities or simply developing industry contacts?
Get notifications on the most relevant networking events happening in your city, event agendas and guest lists.
Save time searching for events
The calendar is produced by a team of full time editors in partnership with hundreds of event organisers at companies, coworking spaces, investors, incubators, accelerators and government organisations.
We do the work so you don't have to.
Plan your week and never miss another event
See an event you would like to attend? Simply add it to your personal calendar with a click and plan your schedule.
Add events into your Google, Apple, Microsoft Outlook, Microsoft 365 or Yahoo calendar.
Get early access to popular events
Be the first to know and get early access to events hosted by popular companies like Spotify, Google and Amazon, before they are sold out.
Get invites to private events
Get on the guest list for private or exclusive events focused on industry networking, founders, investors and careers at startups.
Register your job title, company and interests when you sign up.
Get free or discounted tickets
Receive discount codes from companies and event organisers and save money on tickets for popular conferences like WebSummit, TechCrunch, Google I/O, Slush.
The startup events's list is maintained by a team of human editors. 
Please consider subscribing to keep the service ad free and help support the community
Basic subscription
All the events in your city
* ( SEK 9 / DKK 8 / NOK 7  / Month)

Event calendar for all cities

Early invites to popular networking events

Invites to investor events

Invites to product launch events

Free or discounted tickets

Deals from Google, AWS, Notion and more

Alerts about new job openings at startups hiring

Use with Google, Apple, Microsoft or Yahoo calendars
Frequently asked questions
What is your story
Way back in 2009, when Stockholm was growing to be known as one of the top cities tech innovation, we started the calendar as a way for our friends to keep track of all the events in the city.
Since then we have built relationships with hundreds of event organisers and contributors to publish the most complete calendar of events happening in the city.
Why do you do it?
We believe that innovation happens when like minded people connect over ideas, entrepreneurship and technology and build teams to launch companies that make the world a better place.
We believe a unified event calendar plays an important role in the startup ecosystem to help people discover events and make valuable business connections.
How do you do it?
The calendar is professionally curated by a team of full-time editors and contributions from partner organisations and event organisers.
The calendar is updated daily at 1800 GMT. We also use algorithms and AI to surface the most relevant events to members based on their preferences.
Why is this a paid service?
Our goal is to build a sustainable company so that we can keep serving quality content and constantly improve the calendar.
We also opted for an ad free service for a better user experience focused on event discovery and no distractions from ad banners. 
How much will it cost me?
Subscription is billed annually. There are no additional costs.
Please check the pricing table above to see what is included in the subscription options.
Is it free to add events?
Yes. Adding events is absolutely free. Please check our ADD EVENTS page for a full list of events we publish.
If you are interested in partnering for your next event, accelerator competition or product launch, please CONTACT US.