Upcoming startup and tech events in Copenhagen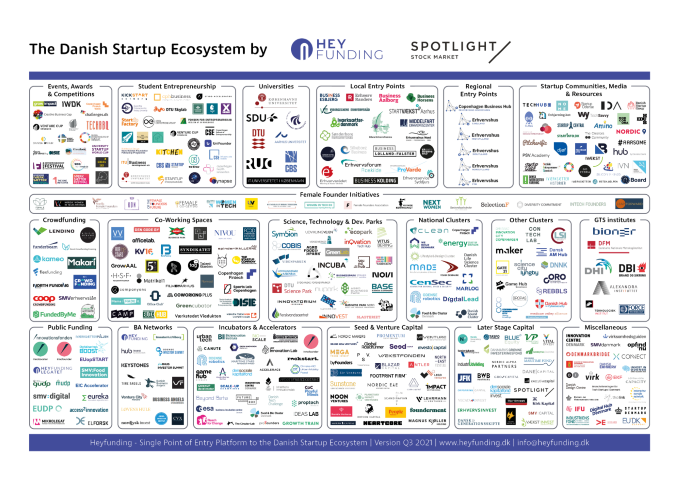 #StartupEventsDK
Follow startup and tech events in Copenhagen
Resources
Copenhagen Business Service where you can get more info about initiatives, take a course or have a chat with a consultant
Keystones: Private organization which helps Danish startups with management, funding and competences in a company.
Students of DTU, CBS and KU can use university resources in form of students innovation offices: Skylab, CSE CBS and Katapult respectively. As an external you can also ask for posting your project to students through these organizations or participate in their networking events.
Co-working Spaces In Copenhagen:
Founder's House: Placed in the old factory adopted into a stunning co-working space, Founders House was first this scale incubator in Copenhagen. It is invite only space, but if you join one of their spectacular and frequent events, you might let them get to know you and offer you a spot.
Ranmaiking Loft Copenhagen is a new office accomodated by Startupbootcamp Copenhagen and available for other entrepreneurs. Great view, low prices and fantastic atmosphere.
Scion DTU: High tech and science park.
KPH: Social entrepreneurship center of Copenhagen. Street style complex in industrial area with cheap or free office spaces for startups with relevant projects.
CSE-CBS: The biggest Danish university incubator for students from CBS, but also from other Danish universities. Arranges frequent events, offers mentorships and keeps on expanding.
Soho: Huge startup office space in a very fashionable meat packing district area of Copenhagen.
Labitat: Hacker space.
Cobis: Space for life science startups.
Republikken: Co-working space for design startups.
Dare2Mansion: Relatively new co-working, incubation and event place.
Rocket Labs: Co-working space for digital startups.
Sky Lab: Startup spot at Technical University of Denmark. It hosts startups, events, courses and gives access to prototyping facilities.
Symbion: Offices for startups, hosts Accelerace and Cleantech bubble programs
Liftoff: Co-working space for creative businesses
Prototype: Hackers and designers space
La Oficina: Office space for startups
PB43: Hackers and co-working space
Spilhuset: Co-working space for gamers
Growbizz: Office space for startups
Nest Copenhagen: Co-living space for entrepreneurs